In the 'Special Yachts' category, the Saffier Se27 has been voted as 'European Yacht of the Year 2021'. 19 boats were nominated in 5 categories and 3 boats were nominated in the 'Special Yachts' category. The awards have grown to include 12 judges from sailing magazines across Europe, each leading voices on boat testing in their respective countries. The Netherlands was represented by Marinus van Sijdenborgh de Jong of sailing magazine 'Zeilen'. The yachts are all tested during trials which took place in Kiel, Cannes and La Rochelle last Autumn. The result is the largest, most influential and widely respected boatbuilding prize worldwide.
Normally the awards would be presented at a special event during the opening evening of the Dusseldorf Boat Show in January. This year it was a virtual presentation on Friday Januari 2021.
The jury report was full of praise: The evolution of Saffier Yachts. The day sailor is just as fast and well-balanced as a pure racing yacht and in the right hands reveals even more qualities. At the same time, the boat is also provided with the comfort of a luxury yacht – as far as it fits just 27 feet. The boat has a simplicity and finesse, which is unique to the market. Developed to the maximum, refined to perfection; a winner pur sang.
The current Saffier's are developed by Dean and Dennis Hennevanger and Satellite Yacht Design. It is fantastic and a great honor when this work results in such a prestigious award.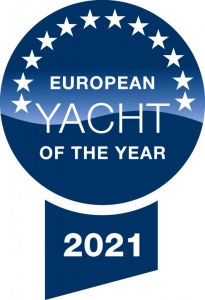 https://www.yacht-design.nl/wp-content/uploads/2015/04/Logo_syd2-300x150.png
0
0
Kees van de Stadt
https://www.yacht-design.nl/wp-content/uploads/2015/04/Logo_syd2-300x150.png
Kees van de Stadt
2021-01-24 11:03:52
2021-01-24 20:20:31
Saffier Se27 / European Boat of the Year 2021