The Saffier Se 37 Lounge is designed as a seaworthy daysailer with extraordinary sailing potential in combination with a luxury feel of sailing. A powerfull rigg, fast underwater hull in combination with a moderen T bulp keel, a fixed bowsprit for a code zero and vacuum building technics make the Saffier Se 37 Lounge a light and fast daysailer while sailing in total comfort.
| | | |
| --- | --- | --- |
| Design no | 175 | |
| Design name | Saffier Se37 | |
| Length | 11.00 | m |
| Beam | 3.45 | m |
| Displacement | 4.8 | t |
| Type of yacht | Cruiser | |
| Building material | Composite | |
| Boatyard | Saffier Yachts | |
| Status | Launched 2017 | |
Forward twin helm and rope free cockpit
Unique on the Saffier Se 37 Lounge is the forward twin helm and the rope free cockpit behind.The Saffier Se 37 Lounge can be sailed totaly by the helmsmen alone. The mainsail, selftacking jib, code- zero or genaker and all sheet and halyards which run underdeck can be operated at the winchconsols while staying behind the twin helm. All lines can be operated manually or with electrical winch. With the two steeringwheels the helmsman can steer accurate to the wind and has a great overview on sails, deck and the surounding waters. Easy passage to the aft deck is guaranteed.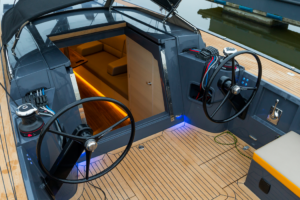 Seaworthy and self-righting
The cockpit which gives room for 10 persons is made that the aft deck can be used as a sunbathing platform and the half open transom makes easy acces to the water. The port and starboard benches are 2.50 m long and offers lots of space while sailing or relaxing in harbour or at anchor.
The cockpit and saloon is just one step away. With a large hatch and the cockpit floor and saloon floor only 1 meter apart the inside and outside is really connected with each other. Inside there is a lot of natural light. Underdeck offers enough space for 4 persons to sleep. There is a cooking facility with running water and fridge*, room for a toilet* and lockers for storage.
The Saffier Se 37 Lounge is seaworthy, self-righting, has a self draining cockpit and can be used on any kind of water.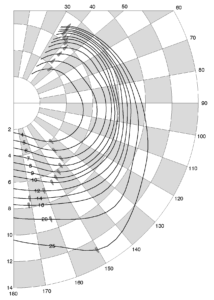 For more information, please visit the website of Saffier Yachts.
In the front is a V-berth of 2.10 m length. On port and starboard side 2 shelves. Underneath the V-berth is a storage space. There is room for a toilet in the front compartment which can be closed for privacy when using the toilet. In the cabin on the port and starboard side is a comfortable seat with storage space underneath.
On starboard side there is a galley with a cooking facility, space for a refrigerator (drawers) and a water basin.